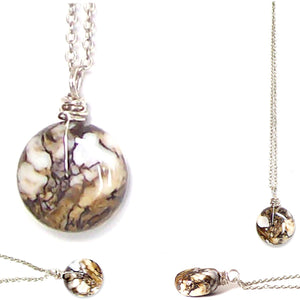 A great gift for that special someone even if that is you.
~22x9mm rare bead size
.
Artisan sterling silver hand wire-wrapped focal rare Arizona Wild Horse Magnesite bead pendant & hung on ~20" silver-plated chain.  If you prefer to have a sterling silver chain, we have a few designs available in other listings.
.
This is the rare, natural & real thing! Arizona Wild Horse Magnesite designer stone bead. DO NOT confuse this with Oregon or Colorado Wild Horse (Jasper) - not even close and nothing to do with each other ... other than the words Wild Horse. The photos show different angles of the same set of rare bead pendant for sale here just to show you how beautiful the patterns and colors are in this rare stone & are for your reference only. 
.
This is a unique and very hard-to-find stone from the barren deserts of Arizona - named after famous Indian ponies - think Pinto's - hence it's name. These beads are used a lot in Southwest designs. These beads are all hand cut - ~0.65+mm holes actually run through the center - nice smooth and clean edges!  We sell many rare beads in smaller quantities, and half strands, for those that don't want to pay the expensive cost of a full strand for the creative designs. This picture is enlarged to show detail. 
.
There are plenty of free online measurement converters should you require.