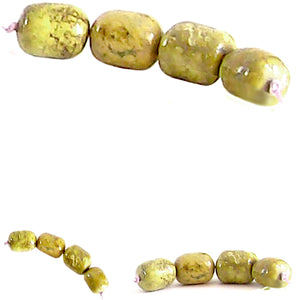 Bead set strand1 - set #4
9.5-10mm x 8-9mm; ~0.50-60mm hole size
These genuine, natural - very expensive - RARE Australian Gaspeite beads from Mother Earth have normal brown/beige inclusions and is just a unique shade of green & browns.- great quality (not dyed). Now you can buy just a few of these very expensive beads (a strand starts at over $500) -randomly selected from the photo showing more than one set of these size/number of beads as stated in the title. These are all hand cut with varying widths & pretty smooth as well. 
Gaspeite is extremely popular in a lot of Southwest designs & we often mix this stone with other expensive beads like Turquoise, pink Rhodonite, Arizona Wild Horse Magnesite, Spiny Oyster, Lavenderite, Lapis to name a few. These are all hand-cut & pretty smooth as well. 
Please pay attention to the size of beads in all my listings as photos are enlarged to show the beads better even though the expectation of bead sizes are also listed for your reference. If you are unsure of measurements, there are plenty of free online measurement converters. Picture is ENLARGED to show detail.