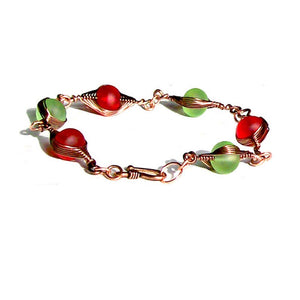 MADE IN MA
This artisan non-tarnish wire-wrapped cultured sea glass beads, each has been done in a Herringbone design, connected together & finished off with a plated hook clasp. Measures ~7-1/2" end-to-end.  This picture is enlarged to show detail.
Cultured sea (some call beach glass) has been physically & chemically weathered which produces natural frosted glass giving these the same effect as pieces of sea glass you find along the ocean shores - but you get a bigger color range with the cultured sea glass.
There are plenty of free online measurement converters should you want different measurements.