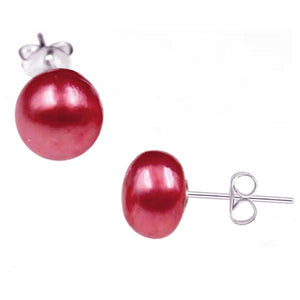 Sterling silver & semi-round Shell Pearls post stud earrings.  The pearls are sort of a button pearl shape and are available in this popular size - each pair randomly selected.  A perfect gift for that special someone even if that is you.  Photo is enlarged to show detail.
SHELL PEARL:  All shell pearl beads are laboratory-made from the shell of an actual oyster & are often dyed to create endless ranges of colors from the iridescence of the oyster shell.  The raw base material used to create these beads is the sea shell coated & polished to its intended shape for the pearl desired.  This process allows for controlling the shape & dyed color that is desired of the pearl beads being created.  Mother of Pearl shell is the key ingredient adding durability to the beads. 
Shell pearls are very popular with many artisans for creating their creative jewelry designs especially with such low cost & great colors to choose.  A reminder these are all drilled beads through the center & almost round in shape.
There are plenty of FREE on-line measurement converters should you desire a different measurement