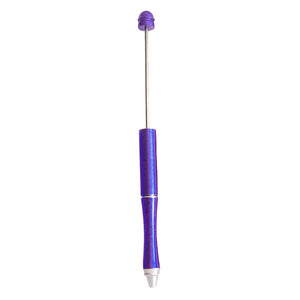 Price is for 1 complete diy ballpoint pen just waiting for your creative ideas - as shown in the photo.  These make great instant gifts for that special someone even if that is you.  Create a fun theme party for any occasion or age.  The additional photos is to show you how these work, some ideas & the look of a finished pen in a box.  We put finished ballpoints in a box for many customers creating a professional look.  Just screw bar/cap on/off to add/or remove your favorite large hole beads. Ink color is randomly blue / black:
The complete metal ballpoint is made up aluminum & metal with the empty ballpoint bead bar area allowing for ~2.25" beading space of ~1.7mm> large hole beads - a total length of ~6".  Each complete ballpoint has been checked out & all is secure & ready for your beads.  They are guaranteed when we send them to you. 
Photos are enlarged to show detail.  There are plenty of free on-line measurement converters should you need one.