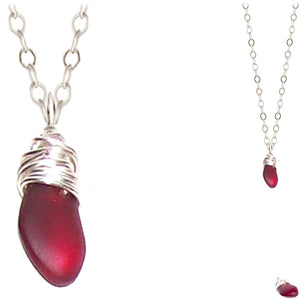 MADE & SHIPs FROM MA
Pendant & necklace (includes ~18" plated chain)
Perfect gift for that special someone even if that is you.  Artisan wire-wrapped cultured ~21-25mm+/- 
sea glass freeform focal pendant all hanging on a plated chain.  Because each of these are hand wire-wrapped, the wire design/shape will vary slightly.  

.
If there is more than one photo of this pendant, it is just to show you the same item at a different angle (for your reference only).  We have sterling silver, and 14kgss, chains available in other listings should you prefer.  P
hoto is/are enlarged to show detail.
.
Cultured sea glass (some call beach glass) has been physically & chemically weathered which produces natural frosted glass giving these the same effect as pieces of sea glass you find along the ocean shores - but you get a bigger color range, & more uniform shape, with the cultured sea glass. 
.
There are plenty of free online measurement converters should you want different measurements.