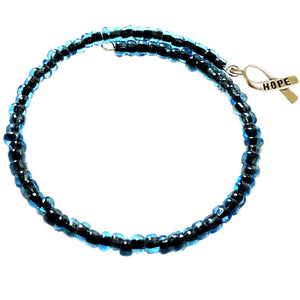 Perfect gift for that special someone even if that is you.
Hope Awareness:  Police, Line of Ble
Artisan-made bracelet consisting of anti-tarnish memory wire strung with 6/0 glass seed beads & silver metal ribbon "Hope" dangle ... all finished off with turned wire ends. 
The inside side-to-side measurement is ~2-1/4" so you just need to measure your wrist to see if this will fit.  This should fit ~7.5+" or a medium-sized wrist.  Just spread the ends apart and put on your wrist.  The photo is enlarged to show detail.  

There are plenty of free online measurement converters should you want different measurements.