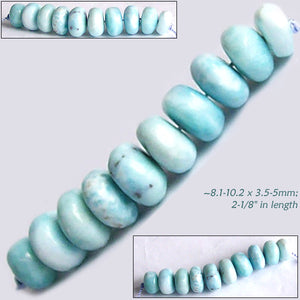 This rare stone is only found on one place in the world - Dominican Republic. I constantly struggle with my digital camera trying to get the color patterns and shades of this rare stone. Either the color and patterns wash out or the color looks too blue according to what I see with my own eyes. I usually end up shooting these in partial sun (photo appears a bit gray) but the pattern and color seem to come out much better where the full sun photos get washed out. One photo shows the sizes I have available in this cut from 8 to 16mm.  
Gorgeous - these are rare, genuine, natural & are not dyed. Now is your chance to buy a few of these very expensive larger beads for an affordable price rather than having to buy a half or whole strand! Price is for 

10 

of these fab HAND CUT rondelle beads shown in the photo. There are other smaller set of these beads in the photo just to show the lot of beads your random selection will be selected from. All of these beads are in beautiful shape & color with some having gray or brown matrix inclusions (very little) which is normal. If there is more than one photo of the rondelles it is only to show you different angles of the same beads. I love using crystal bicones with this stone in many of my designs.  
Because these are all hand cut they will vary in width and even roundness to their freeform rondelle shape. The beads in all my sets have a hole size that may be 0.30mm to 0.65mm range which will work with thin wire. If you are wishing to put a very thin chain or larger wire through these beads you need to pay attention to the approximate hole sizes in the beads. A bead reamer is a perfect solution if you need to enlarge the hand cut hole(s). There is plenty of info on the internet on where to get a reamer and how to use it.
All monitors vary so this adds to the problem with accuracy of the beads you are looking at. So, what I see on my monitor is the most accurate I can get. THE PHOTO IS ENLARGED TO SHOW DETAIL. Please do not ask us to "cherry pick" from the sets as they are already made up.