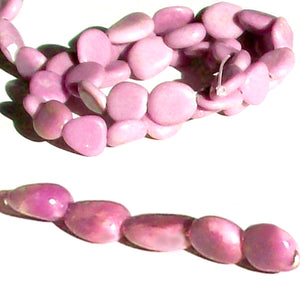 These hand cut smooth beads are rare, genuine, natural & not dyed - nice color.  Because these are hand-cut that will vary in shape somewhat (some thicker than others).  They are composed of phosphorus and iron which will show up as tan to white spots on the surface and are a very natural matrix/inclusion.  Now is your chance to buy a few of these expensive beads for an affordable price rather than having to buy a half or whole strand! 
.
Price is for a total of 5 of these fab hand cut 8mm beads set randomly selected.  If there is more than one photo of these beads it is only to show you different angles of the same beads, as well as, additional sets that your random selection will come from.  Picture is enlarged to show detail.
.
Metaphysical Properties:  Phosphosiderite soothing vibration helps in relieving stress, balance & stability. Aids a stronger spiritual connectedness with spirit guides. Good stone to help access past life memories & open your third eye chakra.