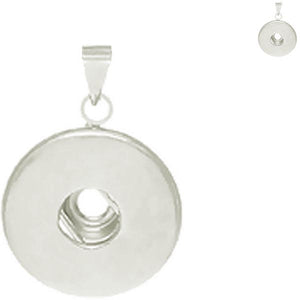 JR=jump rings; SP=silver-plated & GP=gold-plated - base finding only
Silver metal 18mm snap button pendant base finding. 

We buy all kinds of base snap button findings for a lot of my jewelry designs collecting the snap buttons as well. It is so easy just snap in & out of the snap base finding. You can buy these snap findings from many sellers on-line & we do have a variety of snaps buttons & snap base findings for sale as well in other listings. We show an extra pix with a variety of bases we do have available in other listings, as well as, sample ideas on how to use these bases.

Price is for 1 snap button base necklace finding. SO DARN COOL ... start collecting your snap buttons today! Check out our snap earrings, pendants, bases and bracelets in other listings. Photo is ENLARGED to show detail.

There are plenty of free online measurement converters should you want different measurements.