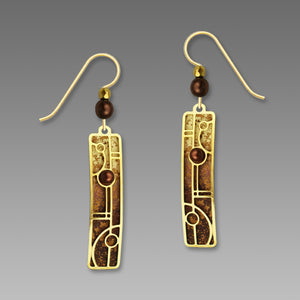 MADE IN THE USA  
These long 14k gold-filled artisan handmade dangle all hanging on hypoallergenic ear wires. You will get a lot of comments when you wear this beautiful artisan jewelry. Give as a gift to that special someone even if that special someone is you. The design is only on the front unless stated.  Photos are enlarged to show detail.
ADAJIO *    ADAJIO *    ADAJIO  *    ADAJIO  *    ADAJIO  *    ADAJIO  *    ADAJIO  *    ADAJIO  *    ADAJIO  *    ADAJIO  *


NOTE:  this jewelry is not designed, marketed or manufactured for, or intended for use by children under the age of 13.
JEWELRY:  Adajio is inspired by diverse imagery from Ancient art of the Americas to contemporary Asian & European motifs.  Each item is infused with color & texture to create a unique visual appeal carefully designed by Colorado artist, Barbara MacCambridge. You'll also find many other designs that reflect her appreciation for the whimsical and fun to wear.  
Many of the materials used in these designs start with hypo-allergenic Sterling Silver or 14k Gold-Filled ear wires. Based on the design, materials used are comprised of Czech glass beads, Swarovski &/or pearl beads; brass, copper, gold- or rhodium-plate; some components are etched from nickel silver. Items are infused with lots of color & texture creating instant appeal.  100% wind powered - great care is taken to ensure all in-house production materials & methods are as nontoxic & environmentally friendly as possible - recycling everything.
CARE & CLEANING:  No special care is required for Gold-plated ear wires except for an occasional wipe to clean. Sterling silver will eventually tarnish, so you can use a soft silver polishing cloth to gently rub tarnish away bringing back the shine.  When cleaning your jewelry, note that any colored surfaces should be kept dry so avoid rubbing the cloth against the beads or colored surfaces as the cleaning solutions may cause dulling and/or discoloration (kept out of contact with alcohol, water or hairspray as will dull metallic surfaces).