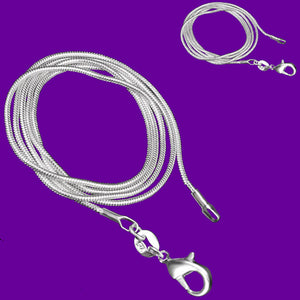 Silver-plated 1mm round snake chain necklace - a popular jewelry staple.  Lobster clasp on one end while the other end is a round attached ring (not the end the photo shows).  These came from different vendors causing the lengths to range from ~29.50-30".  If you need a shorter or longer length, we have available in another listing. 
.
Price is for 1 chain, in the size you select stated in the title.  An alloy is the base metal.  This picture is enlarged to show detail.
.
There are plenty of on-line measurement converters should you require.